COMPARE THE BEST TENNIS BETTING SITES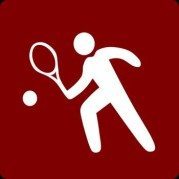 Betting Site customers can now enjoy free live streaming of Grand Slam tennis tournaments, while online betting sites also live stream action from the ATP and WTA tour. Simply log into your online betting account and watch the latest matches. Naturally, any live streamed tennis match has accompanying In-Play odds so that you can bet as the match unfolds. There is usually a wide range of live markets available.
Finding the best Tennis Bookmaker is not an easy task, but we have provided a useful comparison to help you make the right choice:
Welcome bonuses and rollover requirements
Live streaming tennis and In-Play betting markets
Independent rating and review for each betting site
Our favourite three bookies for Tennis Betting
Five ways to choose the best online betting sites
*You can re-order the tables by clicking the little arrows next to any option you're looking to compare.
| | BettingSite | Rank | Est. | Payout | Offers | Min.Odds | Offer Requirement | Bonus Expiry days | Mobile Betting | ATP, WTA &Majors | Tennis Streaming | Betting Site Link | Review | |
| --- | --- | --- | --- | --- | --- | --- | --- | --- | --- | --- | --- | --- | --- | --- |
| | Betfred | 8.34 | 1967 | 93.0% | 60£ | 2.0 (1/1) | Bet £10, Get £60 in free bets & spins | 7 | | | | Claim Now | REVIEW | |
| | 10Bet | 8.14 | 2003 | 93.3% | 320£ | 1.6 (3/5) | up to £200 +£120 Bonus Code: 200PLUS | 9 | | | | Claim Now | REVIEW | |
| | BetVictor | 7.44 | 1946 | 92.7% | 30£ | 2.0 (1/1) | Bet £10 & Get £30 + The Golden Goal | 7 | | | | Claim Now | REVIEW | |
| | Totesport | 7.03 | 1928 | 91.4% | 25£ | 2.0 (1/1) | 100% First Deposit Match | 30 | | | | Claim Now | REVIEW | |
| | Betfair | 8.26 | 1999 | 0.0% | 100£ | 1.5 (1/2) | Get up to €100 (5 x €20 free bets)-Promo code ZBBC01 | 7 | | | | Claim Now | REVIEW | |
*Rating are calculated by our resident math whiz from 6 different sources: Good Bookmaker Review, Bookmakers Review, SBR, WOSB, Top 100 Bookmakers and Bmbets.com – making them more universally accurate.
New Tennis Betting Sites 2018
Five ways to choose the Best Online Bookies Sites
Tennis betting has never been more popular. Despite the recent rumours of match-fixing, this is largely a clean sport which affords daily betting opportunities through the ATP and WTA Tour.
Naturally, the weeks in which the bookmakers enjoy the most turnover at their site is when a Grand Slam event is taking places, such as the forthcoming French Open or Wimbledon.
If you're a tennis fan who likes to have a wager on their favorite sport, then it can be confusing trying to work out the best betting site. There are stacks of bookmakers who provide tennis betting markets so it's worth thinking about what you want from an online betting site.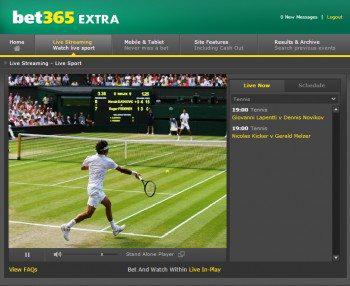 The first thing is to consider whether you want live streaming of the action while you're betting on the tennis. Live streaming is something that is now available for the bulk of tennis tournaments, including the Grand Slam events such as Wimbledon.
Being able to actually watch the tennis while betting on it is clearly an advantage, especially if you want to bet In-Play on a match. In fact, we would always recommend that you have access to the game if you're planning to bet live or you will place yourself at a pretty big disadvantage in the process.
Betting In-Play is a fast-paced and exciting way to enjoy this wonderful sport of tennis. Bet365, Ladbrokes, Paddy Power, Betfair and 10Bet are among the market leaders when it comes to the provision of live markets.
For example, you might have Rafael Nadal facing Novak Djokovic in the 2016 French Open men's singles final. So there is an opportunity to bet pre-match on a range of markets such as match winner, set score or total games.
However, when the match starts, then there are even more markets and the odds change on a continuous basis in accordance with what's happening on the court. In addition to match winner, set score and total games, you can get on markets such as Next Set Winner, Next Game Winner and even Next Point Winner!
tennis bookmakers


Every online betting site worth their salt will offer an In-Play betting service on tennis although each bookmaker is different. Some will offer more markets than others. Some betting sites will offer more competitive odds than others and it's sometimes hard to work this out considering that the prices are always changing.
Indeed, we recommend potentially having accounts with several bookmakers so you can watch a game and compare their In-Play odds as you go along. Otherwise, you might not be getting the odds you actually deserve.
If you enjoy placing multiple bets on tennis, then it's also worth shopping around when it comes to choosing the best online betting site for tennis. Accumulator bets are a great way of combining lots of short-priced selections to make the odds much bigger and enjoy a healthier return in the process.
Backing Novak Djokovic to win a match of tennis often involves having to back at heavy odds-on if you're taking the single, although combining the world number one with several other top players means you get a big price as a result. Therefore, if you're keen on multiple bets, then you have to work out the tennis betting site that offers the best tennis prices on a consistent basis. It can make a big difference if your accumulator is at odds of 8/1 with one bookie and 10/1 with another firm.
Linked to the tennis accumulator service is the fact that many bookmakers offer something called Acca Insurance. It's prevalent among many online tennis betting sites as they understand the customer frustration experienced when you have placed a multiple bets and one player lets you down.
So for example, you might select eight players to win their first-round singles match and seven get the job done before one loses in a final set decider. Therefore, you can often get your money back as a free bet rather than lose.
This also encourages customers to keep betting with the bookmaker in question, with Moneyback offers means that people are more likely to keep choosing that online betting site and saving themselves money when it comes to striking losing bets.
On a similar subject, Cash Out betting has become in vogue in recent years and many bookmakers now offer customers the chance to take the money and run when they place a bet.
Bet365 lead the way when it comes to Cashing Out, with customers now able to place a tennis bet on any particular match and get a Cash Out value straight after they have made their selection.
The Cash Out value then changes in accordance with what's happening in the tennis match. If you back Rafael Nadal to beat Djokovic in the French Open final, you might place £50 at odds of 2/1. That would mean a potential return of £150 if the Spaniard wins the match.
However, if Nadal takes a one-set lead, then his In-Play odds might change to 10/11 and you would get a potential Cash Out value of £100. That would mean you could take a profit of £50 without waiting for the match to reach a climax or alternatively stay in the bet.
Cash Out is also a welcome service when your bet isn't working out and you are facing a losing scenario. Rather than lose 100% of your stake, there's often a chance to cut the money and run with 50% of your initial outlay which is better than a slap in the face.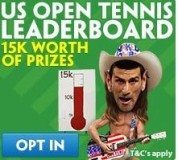 Free bets are also an important part of the decision process when it comes to choosing the best betting site for the sport of tennis. Most bookmakers still offer a welcome bonus when you open an account and it's important to read the terms and conditions and work out the most favourable ones for you.
Some bookies such as bet365 offer an initial deposit bonus which means you can have a free betting balance straight away although you do have to play your deposit and free bet through three times before making a withdrawal.
Paddy Power goes down the different route of offering a free £30 bet when you open an account and place £10 with this popular bookmaker. So you would need to find a tennis betting selection at odds of 1/2 or bigger and then when your bet is settled, you will get a free bet that can be used for any betting market.
It's important to remember with the free bets that they don't get included in the return calculation. So if you're putting your free bet on a 1/2 shot, then you won't get a big return. However, choosing a 10/1 shot means a healthy return of £300 with a £30 free bet.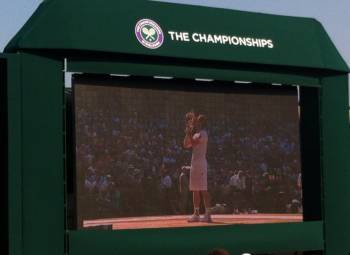 Similar to tennis free bets, customers can also benefit from tennis price boosts when it comes to the big tournaments such as the French Open, Wimbledon, US Open and Australian Open.
A price boost is where a bookmaker will take their normal price, eg Andy Murray 3/1 to win Wimbledon and offer this player at inflated odds of 10/1 instead. This forms an alternative to a new customer free bet and is often a value proposition.
So using the above example, backing Murray at odds of 10/1 might be available at Ladbrokes and it might be possible to have a maximum of £10 at this price which would mean a potential return of £100 should he win.
Tennis price boosts such as these are popular with several bookmakers and the winnings could be paid out in cash or free bets, representing an excellent start to life with a new betting account.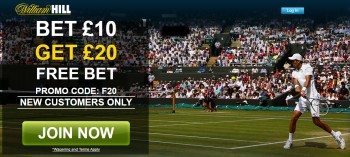 While these sort of tennis price boosts are only available to new customers, there are similar type of boosts on offer for existing customers too. Sky Bet are especially keen on enhanced prices for the tennis Grand Slams and will often provide multiple bets at big odds which regularly pay out.
Again, this is why it pays to have several tennis betting accounts. In summary, you should consider the following when choosing an online bookmaker: competitive odds, In-Play betting, live streaming, multiple bets, Cash Out facility, price boosts, free bets and enhanced odds. Good luck!
When it comes to betting, Tennis is one of the most popular sports, particularly as many bookmakers live stream tournaments from the WTA and ATP Tour all the year round. This includes some of the Grand Slam events for instance, the US Open, Wimbledon and Australian Open.
The other Grand Slam tournament is Roland Garros and the bookmakers offer a first-class service for major events such as this, with match betting available from the first round onwards and a wide range of markets such as Set Betting, Handicap betting and Total Sets / Games.
You can place accumulators on tennis matches which is great during a Grand Slam tournament where there are a wide range of players available at odds-on to win their respective games, with multiple bets including the top players always popular.
Work out the markets where you are enjoying the most success and stick to those markets! A lot of successful punting comes down to discipline and not getting excited by betting opportunities which are too good to be true.
The chance to bet on the winner of the men's singles or women's singles is available as the tournament progresses, with the odds updating according to the players left in the event and it's one of the several ways that you can trade for a profit at sports betting exchange such as Betfair.
Betfair customers often look to create a profitable book on a particular tennis match by backing a particular player at big odds with the expectation that these odds will shorten during the course of the match.
If this happens, customers then have a chance to trade their position for a profit although there are natural occasions where you have to trade out for a loss instead, it all comes down to predicting what will happen for a particular sporting event.
Set betting is where you are not only backing Rafael Nadal to beat Roger Federer but also opting to place a bet on the set score between the Spaniard and the Swiss, with these offering better odds as it's more difficult to predict the outcome of a particular match.
Alternatively, Handicap betting means that you can have a bet on Player A to win a particular match with a -1.5 set handicap which means better odds and you need them to win a men's singles match by a scoreline of 3-0 or 3-1 in order for the bet to win.
You can place accumulators on tennis matches which is great during a Grand Slam tournament where there are a wide range of players available at odds-on to win their respective games, with multiple bets including the top players always popular.
How to Choose a Betting Site for Tennis ?
When looking for the best betting site to place a tennis wager on, there are several aspects that need to be considered.
The unstoppable technical advances have had the online betting landscape going through constant reshaping and evolving, so bookies need to adapt to the new requirements and constantly reinvent themselves in order to attain and retain customers. For their own part, punters need to asses betting venues at their disposal and choose only those that will give greatest value for the money invested.
One of the most obvious and common ways to tell if a bookmaker is worth going for is the welcome offer and sign up bonus. Bookmakers are competing for your signature and will therefore offer various bonuses to get under your skin and get you onboard.

The offers are quite colourful and vary to great extent so they need to be reviewed thoroughly in order to determine which particular one suits you best.
Bookmakers will usually offer a cash bonus matching your initial deposit up to 100% and up to £200 in some best cases, which means you get a free bet to the full amount of your initial deposit.
Others will offer enhanced odds on a selection and it comes often enough that a bookmaker will present you with a tennis offer, most likely when there is a big tournament going on. This might be the perfect opportunity to claim an enhanced odds offer on a tennis selection but make sure to go shopping around in order to collect enough information to make a right choice.
Once you identify a great welcome-offer betting site, make sure to check out the market offer.

The best bookmakers around and the ones you can trust will hit you with an extensive tennis market and tournaments you will not find everywhere. The smaller betting sites and those that do not boast a significant reputation will focus their tennis attention on Grand Slams, Master Series tournaments and other major events, without offering Futures and Challenges where a good number of high-value bets can be found on regular basis.
So make sure you checked the market offering and do not jump to conclusions based solely on the Welcome Offer.
Once you've analysed the market, make sure to go shopping once again to have a look at the competitive angle of the odds you have on offer. Reputable bookmakers will make sure to present their players with best value as they are very much aware of the competitive angle of the business. Higher odds than at any other place is bound to have a good impact on player's retention as it is fairly certain that punters will return to a place where they can make the biggest return out of their initial bet.
Ultimately, do have a look at In-Play betting facility which has long become arguably the most popular way of betting. In-Play betting is particularly interesting and rewarding with the high-tempo sport such as tennis.
Every self-respecting bookmaker will be keen to spice up the In-Play service with a live streaming facility which provides the ultimate gaming experience of watching the match and witness your winning selection go through from first hand. It is a feeling that's hard to match.
HOW TO BET ON FOOTBALL
Football betting explained – how to place bets on football matches
How to use free bets on football matches and get paid out by the bookies
Betting online has never been more popular although it can be difficult to understand how to place bets if you've never done it before.
There are lots of bookmakers out there who are handing out free bets, price boosts and a wide range of betting markets for every football match. But how do you work out the best bookie offer for you?
Premier League Football Betting
Bet In-Play on every Premier League match throughout the season, The Premier League is the biggest football league in the world when it comes to betting. All over the world, customers log into their betting accounts to strike a bet on the English top flight.

The Premiership is a fiercely competitive league, with Chelsea, Manchester United, Arsenal and Manchester City challenging for the top spots, while Liverpool and Tottenham Hotspur often add excitement for Champions League spots.
Betting In-Play has never been more popular and customers can expect to find over 100 live markets for every Premier League match for bookmakers such as bet365, William Hill and Paddy Power.
At the beginning of the season, you can bet on antepost markets such as the Premiership winner, Golden Boot and Relegation. Then, when the action starts, you can have an accumulator on the Premier League every weekend and get big odds on your teams all winning.
Many bookmakers have special Premier League betting promotions such as bet365 who have an Accumulator Bonus. This means that you can get extra winnings on successful multiple bets starting with a winning treble.
Chelsea were a popular accumulator pick during the 2014/15 season as the Blues romped to a league title success under Jose Mourinho. Other popular teams included Manchester United and Arsenal, both of whom enjoyed winning runs.
There are lots of pre-match Premiership markets including First Goalscorer, Correct Score and Asian Handicap betting. Some customers like to place bets on Both Teams to Score which adds excitement to matches where there is a strong favourite to win.
Naturally, you can enjoy free bets from bookmakers on the Premier League when you open an account, with the bookies queuing up to offer you a Premiership price boost or free bet when you register.
HOW TO BET ON TENNIS
Tennis betting explained – how to bet and win on tennis
Tennis is one of the most popular betting sports and offers lots of In-Play opportunities

Football and horse racing continue to lead the way when it comes to the most popular betting sports although both are seasonal in comparison to tennis.
Tennis tournaments take place all year round, with the ATP and WTA Tour relentless to the extent where the players have a Christmas break before heading back to the courts in preparation for the Australian Open.
Why bet on tennis?
It's an exciting fast-paced sport
Many bookies live stream tennis matches
There are lots of pre-match markets
And even more In-Play opportunities
What are the most popular tennis markets?
Match Winner
Quite simply, you are betting on a player to win their match. So Andy Murray might be 2/1 to beat Rafael Nadal which means trebling your money if you back the Brit and he wins.
Naturally, this is a popular In-Play market and it's possible to back both players at odds-against and secure a profit whoever wins.
Alternatively, you can put the likes of Murray, Nadal, Djokovic and Federer in a match winner accumulator and get bigger odds as their odds are multiplied.
Set Betting
This is where you bet on the correct score in terms of sets. It's great when you fancy a player to win in straight sets as you'll get a better price about that happening than a player simply to win their match.
Alternatively, you might expect a men's singles match to go the distance and you can often get tasty odds about a player winning 3-2. Just a question of picking the right player!
Handicap Betting
This is a great type of betting when the match winner odds are uncompetitive. So Djokovic might be playing a lower-ranked player and a bookie might offer Novak at odds of 10/11 with a -10.5 game handicap.
This means that Novak would have to win at least eleven games more than his opponent to cover the handicap and win the bet. So a 6-2, 6-3, 6-2 victory for the Serbian would mean he's won eleven games more.
Match Totals
This is where you're not backing one player against another. Instead, you are predicting that the match will involve more / less sets or games than the bookmakers expect.
So a Grand Slam match between Murray and Djokovic might see a bookie offer odds of 10/11 about Over 39.5 Games and 10/11 about Under 39.5 Games.
If you think the match will be close and involve several sets, you might bet Over 39.5 Games. A five-set match would almost certainly lead to a winning bet. However, backing Under 39.5 Games would mean you want a one-sided affair or sets involving as few games as possible.
Outright Winner
Before the tournament, every bookmaker under the sun will price up outright odds for the men's singles and ladies singles. This is an opportunity to try and back the winner of an ATP, WTA or Grand Slam event.
Naturally, the odds are updated as the tournament rumbles along. So you could place an outright bet after the second round matches have been played, or even when the last eight are known.
However, getting the biggest price about a player often involves backing them near the start of a tournament as a couple of victories might see their price cut significantly.
How to make money from In-Play tennis betting
Betting on live tennis matches is highly exciting and rewarding
Plug yourself in for the rollercoaster ride that is In-Play betting on tennis!
As soon as the umpire calls "time", then the bookies load up their live markets and you can literally bet ball-by-ball on the action at Roland Garros or any of the other ATP and WTA tournaments that happen throughout the year.
Say Andy Murray is playing Novak Djokovic in the semi-final of the French Open. You can bet on the usual pre-match markets such as Match Winner, Correct Score or Total Games.
However, the In-Play opportunities are virtually infinite! When the first set gets under way, you can get on the winner of each point, each game and the set itself.
The Match Winner market is also updated on a point-by-point basis, with the odds fluctuating and it's fairly common for both players to be favourite at some stage in proceedings.
The trick is to watch the tennis match and identify trends where possible. Is Murray serving well against Djokovic? Does Murray look like breaking the Serbian's serve?
You can bet on the Correct Set Score while the set is ongoing. Will Djokovic claim a 6-4 victory or perhaps even 7-5? Then there's also the chance to bet on whether there will be a tie-break and guess if one takes place? That's right, a chance to bet on the tie-break winner.
It's fast-paced stuff and we recommend you always only bet with what you can afford. Don't get carried away and find you have backed a succession of losing bets.
Work out the markets where you are enjoying the most success and stick to those markets! A lot of successful punting comes down to discipline and not getting excited by betting opportunities which are too good to be true.
Betting on Horse Racing & Royal Ascot
Best betting sites for Royal Ascot 2015
Royal Ascot best odds guaranteed and live streaming with several bookmakers
The biggest flat meeting in the UK calendar is undoubtedly Royal Ascot, with the top hats and glamorous outfits donned for a regal spectacle over several days.
There is also high quality racing, with some of the world's fastest horses entered in lucrative races and eye-watering sums of money on offer for the connections of those runners who claim the spoils.
Free Bets
The bookmakers are queuing up for your business during this five-day meeting. Back-to-back top class racing lends itself to lots of punting and you should look out for betting sites that offer above and beyond their standard welcome bonus
Watch out for Royal Ascot price boosts
Solow and Able Friend might be available from 2/1 to 10/1 for the Queen Anne Stakes on Day One of Royal Ascot, while odds-on chance Gleneagles is likely to be boosted from 4/5 to 5/1 with certain bookmakers.

Price boosts are a great way of backing horses at inflated odds when you're a new customer but make sure you pick a runner you think will win! There's often the chance to enjoy a free bet should the horse lose in that particular race.
Royal Ascot live streaming – watch online
Ascot is an AtTheRaces track and that means you can watch the racing live online with virtually every well-known bookie. They've all got deals with ATR which means when you sign in to your account and bet at least £1 on a particular race, you will get access to live streaming.
The picture quality is very good and you can watch the racing on mobile devices such as tablets and mobile phones as well as desktop. The great thing is you can also watch replays of all the Royal Ascot racing once the action has finished.
Best Odds Guaranteed
Make sure you go with a bookmaker offering Best Odds Guaranteed. It means that you can take a price on the day of the race and know that you will get SP if the latter is bigger.

So if the price of your horse gets shorter, you will get the price that you have taken. But if the price gets longer, you will get SP so you're a winner even before the horse has run.
What is Price Promise
Several betting sites compete hard against each other and often guarantee that their prices will be on a par with certain competitors. It's an attempt to keep you betting at their site and if they also have Best Odds Guaranteed, then you'll know they're on a par with anything else out there.
Get Free Bets for Backing Winners
Some promotions actually reward you when you've had a winner. Something like the 4/1 Feature Race offer means you get a free bet to the same stake should you land a winner in a particular Royal Ascot race.

We hope you have a great time punting on Royal Ascot and make some money from the free bets, price boosts and other promotions that come your way.
In the United Kingdom, football is by far the most popular sport for betting. For several years, this has been the case, with the sport sometimes known as soccer overtaking horse racing due to the fact that In-Play betting and multiple markets ultimately offer customers more choice.
Horse racing still remains strong as the 2016 Cheltenham Festival testified, with the Grand National, Royal Ascot and Glorious Goodwood continuing to fly the flag and the summer months see football punters return to the racetrack when there is no soccer action.
However, a clear third in the sporting ranks is tennis. Not golf, cricket, rugby union, rugby league, basketball or any other American sports. The sport of tennis is massively popular with betting customers and there are several reasons why this is the case.

It should also be noted that tennis is a global sport that is appreciated in all four corners of the world. It might require privilege or coaching from a youthful age to make it as a professional but it doesn't diminish the mass appeal of a sport, which has always been easy on the eye for spectators.
In addition to being popular globally, tennis also takes place nearly every week of the year. The WTA and ATP tours never stop, while there are also secondary tournaments in addition to the competitions where you'll see the big guns participating.
Tennis is probably the sport that has benefitted the most from In-Play betting. Previously to the advance of this concept, then customers could put together a tasty little accumulator with players who might win their respective matches.
There were probably also a handful of markets available such as Correct Set Score, Set Handicap and Total Sets, although that was probably the limit when it came to tennis betting until the bookmakers cottoned on to the fact that live wagering was an ideal way to capture a bigger market share.

Now you can bet on pretty much anything happening during a live tennis match. Visit a bookmaker site such as Paddy Power, William Hill or Sky Bet right now and there's a decent chance there will be live tennis taking place.
You might think an obscure ITF match between Quentin Halys and Yannick Hanfmann would mean the token live In-Play tennis betting market available although bet365 were serving up a dozen live markets that were changing with the serving of every ball.
In addition to the match winner, you can bet on the current set winner. Then there is the point winner in a particular game which essentially means that you could place hundreds of In-Play bets on a tennis match if that was your particular desire.

The tennis betting sites have traders to monitor matches In-Play and the markets are adjusted accordingly, with several bookmakers actually displaying graphics for what is happening on the court.
Which brings us on to tennis live streaming. For several years, many betting sites have secured deals with rights providers when it comes to the sport of tennis. Which basically means that you can watch action from the top ATP and WTA tournaments every week thanks to this service.
A bookmaker generally requires you to have a funded betting account or to have placed a bet recently in order to access the live streaming. This tennis live streaming action can be accessed on a number of platforms including PC, laptop, tablet or smartphone.

When it comes to the Grand Slam tournaments, then bet365, Paddy Power and BetVictor are among the bookies that also live stream the action. You can watch matches from the show courts at the Australian Open, US Open and Wimbledon thanks to this live streaming service.
There is generally a way of watching a tennis match and having accompanying live In-Play markets on the same screen, so you don't have to flick between browsers in order to place bets.
The wonderful thing about the game of tennis is that momentum can lurch from one player to the next very quickly. We've all sat down and witnessed some epic matches involving the likes of Novak Djokovic, Rafael Nadal, Andy Murray and Roger Federer.

Despite recent scandals surrounding tennis betting, the bookmakers continue to get involved with a sport which lends itself pretty well to having a wager. William Hill recently sponsored the 2016 Australian Open and reported a brisk trade despite the fact that high-profile players have been linked to match-fixing.
Hills are one of the bookmakers going after their share of the pie in Australia, with the company reporting over 1,000 new customers on a daily basis while the fortnight-long tournament was taking place.
During the first week of the Australian Open, William Hill saw an uplift of nearly 100% compared to the previous year's trading, with In-Play betting enjoying an amazing increase of 238% which was mainly attributed to a new app.

Chief executive James Henderson reported: "Internationally, I'm particularly pleased that William Hill Australia is now benefitting from our reshaping and investment in the business.
"We now have one of the highest rated betting apps in Australia and during the William Hill-sponsored Australian Open we acquired an impressive 1,000 customers a day and saw a 680% increase in tennis in-play turnover".
Indeed, the bookmakers have hit back at allegations that the tennis betting service being offered actually lends itself to corruption. Several leading players including William Hill have served to illustrate that they are working hard to keep the sport clean and be totally transparent with governing bodies when it comes to suspicious betting patterns on the sport.

Coral are one such player and they have been at pains to suggest that attacking a bookmaker offering odds on the outcome of matches is simply pointing the finger in the wrong direction.
"Bookies are an easy target," Mr Clare said, but "it's us who stand to lose [from corruption]. With stories like this the concern is that it tarnishes the image of the sport, and that could flow through to customer confidence."
Ciaran O'Brien, William Hill's communications director agreed, saying: "It takes a lot to put people off. The allegations are quite old and even if they're true, it's still a tiny minority that have been affected. It's right for people to trust in the sport."

It makes sense for the bookies to defend their corner with the sport of tennis. After all, those players benefitting from pay-offs to lose or stop trying in a match are far more likely to receive their money from syndicates betting in Asia rather than with a UK-based bookmaker.
Tennis is likely to account for roughly 10% of bookmaker turnover in the UK during the year of 2016. While a quarter of all reports of suspicious activity reported to the Gambling Commission are tennis-related, betting remains popular and several leading players have spoken out over the minority of players who are spoiling it for the rest.
Tennis therefore continues to play a major role for any bookmaker worth their salt, with this sport a constant when it comes to In-Play betting and live streaming. For betting sites wanting to showcase their new apps, they know that tennis tournaments taking place 24/7 mean that there is always something for a customer to bet on.

And therein lies the rub. Sometimes punters are not particularly selective when it comes to placing a sports bet. While some customers will wait for the weekend football to place their accumulators, many actually just want some live streamed sport to enjoy while they place a few In-Play wagers.
Many In-Play tennis betting sites offer special bonuses to customers after they have placed a certain number of bets on the sport. Bet365 have something called a Tennis Accumulator Bonus and multiple bets are popular considering there are regularly so many short-priced favourites.
For example, when Federer, Murray and Djokovic play the early rounds of a tournament, they generally trade at massive odds-on to win their match which means there is no benefit from backing them as a single.

However, when you roll up their odds in an accumulator, then you can often get odds-against prices, especially when you make a large number of selections and hope that all the seeds manage to get the job done.
So in conclusion, the emergence of mobile apps, In-Play betting and live streaming have elevated the sport of tennis to dizzy new heights. It used to be the case that you might place a few outright bets on the French Open or Wimbledon before settling back and watching the fortnight's action.
However, each day of a tournament now brings a massive pre-match coupon, an In-Play hub bulging with live betting opportunities and nearly always the chance to access live streaming of several games. Indeed, some bookies now offer something called multi-screen for the diehard punters who want to view several matches concurrently.