How to Bet on the Draws
Despite being an outcome as possible as any other in a football match from the statistical point of view, a draw has always been one of the biggest and most demanding betting challenges.
Surprisingly, however, any football match has significantly higher chance of ending up in a draw than in rugby or American football for instance. Numbers are there to prove it as well with approximately 26% of all Premier League matches over the past decade finishing in a tie.
Therefore, it is fair to say that the very premise that a draw is not likely to occur in a football match is just a wrongly perceived idea which stands as a road block between you and a potential win.
Intuition vs Knowledge
Recognising a potential draw has become art and by mastering it you as a punter make that illusive transition from a cheeky bettor to a knowledgeable pundit, even though you might only be using intuition as your guide.
Intuitively speaking, a draw is most likely to occur in a matchup between two sides of relative equal ability or teams that play under the same amount of pressure. You must listen to what your intuition has to say, but do not discard the common knowledge that suggest a title contender on a positive run is unlikely to be held by a minnow struggling to find ground under the feet in a decline towards relegation.
Two midtable sides locked in a fight for European places are arguably the best-valued choice for a draw.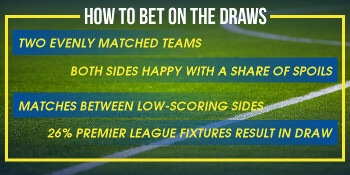 A point Big as a House
One of the reasons speaking in favour of those midtable teams is the need for points and fear of losing.
To sides sitting in sixth and fifth place in the standings midway through a football season each point is as big as a house and, with that in mind, their mindset can get predetermined and programmed to share the spoils and look for the entire loot elsewhere.
A match like this one is easy to recognise and could be a perfect opportunity for In-Play betting as well. Teams playing for a draw will make a strong start in attempt to break the deadlock and then pull back and sit deep, trying to keep rivals at bay.
Having shut the shop in the second half, teams like these will not be charging forward as well but will be confident of their defensive ability to provide enough backing to your choice to stick with a draw.
Low Scoring Affairs
Let us tell you straight away, chasing the high-scoring draws is difficult. It would be extremely easier to predict a goalless stalemate than a 2-2 or 3-3 game between teams that like to play and enjoy an openminded brand of football.
Each league, however, has a couple of its low-scoring sides who struggle in the striking department and choose to defend their goal rather charge towards the opposing one. A simple look at the team statistic should provide a deep enough of an insight when you are searching the low-scoring sides.
Pitted against one another, such sides tend to mute each other out in a dull but an effective draw from the punter's point of view.