Which Betting companies Sponsor Premier League Clubs?
Football sponsorships have gone through a massive change over recent years.
A phenomenon which kicked off as an elegant marketing trick used by companies to raise brand awareness quickly turned into an easy profit opportunity and a business model able to generate a significant global revenue.At the beginning of the Premier League as we know it today – 1992/93 season – consumer electronics and beer were the two main shirt sponsorship deals. The two went hand in hand for the good part of the 1990s before slowly disappearing in the new millennium when their primacy was taken over by bookmakers.
Much along with the popular debate and a growing concern regarding the irresponsible gambling issue plaguing the country, it was Betfair who first appeared on Fulham's shirts in 2002/03 season crack opening the door for many to enter the lucrative business. Shirt sponsorship deals became commonplace and a relatively cheap and affordable way to reach millions around the globe, which came in particularly handy with the growing expansion of online betting.
England's Labour government is fighting hard to stop the trend and ban football clubs from signing shirt sponsorship deals with new betting companies as Department for Digital, Culture, Media & Sport (DCMS) prepares for a review into gambling advertising and fixed-odds betting terminals. The review is due to be published in early November and is likely to have a big impact on sponsorship systems currently in place.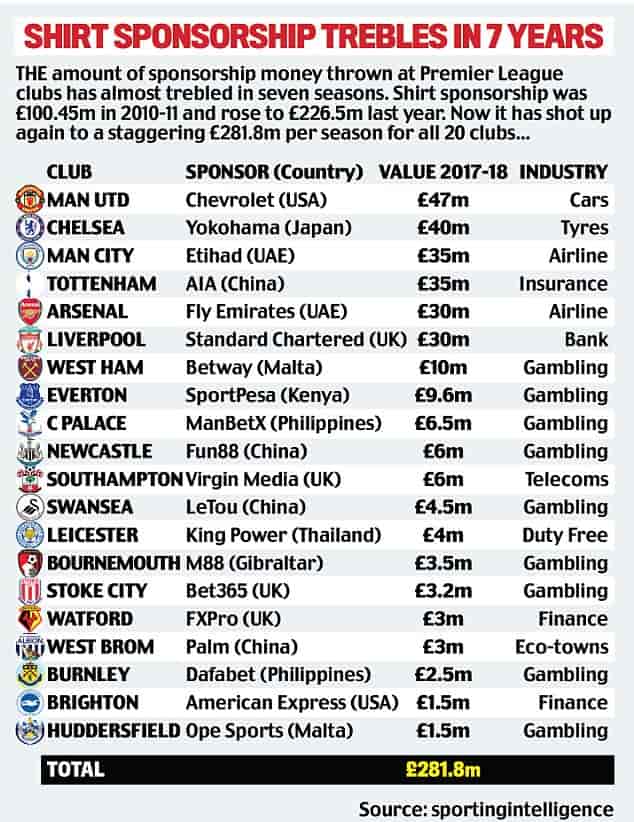 Nine of the 20 Premier League clubs currently have shirt deals with gambling companies but sponsorship deals have long expanded their reach to training kits, pitch-side banners and – most importantly – stadium names for example. That being said, the number of clubs teaming up with bookmakers is slightly bigger. Formerly known as Britannia Stadium, the home of Stoke City now bears the name of bet365 Stadium.
The world's leading operator – bet365 – remains one of only four UK based betting operators, along with BetWay, who sponsor West Ham United, Betfair who support Arsenal and BetVictor who stand with Liverpool. The remaining clubs have gone for foreign bookmakers and companies such as Sport Pesa, Fun88, M88, Dafabet, ManBetX and Ope Sports which can currently be seen on television every weekend.
The global audience the Premier League caters presents a lucrative business opportunity and foreign gambling companies have recognised the potential. Behind the marketing aspect of the sponsorship deals there lies a phycological effect too.
According to different information acquired from several surveys, football punters tend to trust the bookmakers sponsoring their favourite teams. Additionally, they are more likely to bet on their favourite team if they have a gambling operator as a sponsor. With the announcement of possible legislation intended to put a stop to betting operators sponsoring football clubs and the pressure currently being put on the Football Association, it looks as if the end to betting deals could be near.
Should a ban goes through, betting operators will need to find an alternate route into the punters' hearts?