How About Live In-play Betting?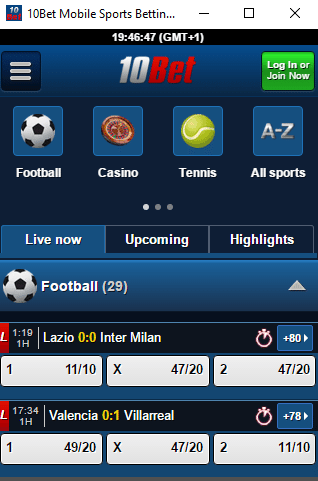 Mobile betting and In-Play betting go hand in hand. Pre-match bets on football are more likely to be placed on a PC or laptop where betting customers have the opportunity to consider the various markets before striking their bet.

However, In-Play betting has become monopolised by mobile betting devices and this is where bookmakers need their products to pass the test. If there's a big Premier League or Champions League match taking place, then a good bookmaker should have this featured slap bang on the homepage of their mobile site.
Naturally, the same thing applies with live betting as the first point in this article. The mobile betting website should load quickly despite the fact that the markets are updating in real time. If you find that the bookmaker site starts hanging when you're trying to find a particular market, then it might be worth looking elsewhere.
It's often worth downloading the mobile betting app rather than repeatedly visit the mobile betting website. The advantages of downloading the app are numerous. It should contain the same (if not more) number of features as heading to the mobile bookmaker website and the app then sits neatly on your mobile phone for repeated use.
You can also choose to receive push messages from your bookmakers of choice. These notifications are great when there are a special promotion running and bookmakers also use mobile push messages to let you know if there's a free bet offer or whether you've received money back on a special promotion.