Have Spurs usurped the Gunners as the top dogs of North London?
---
As Spurs head into their London derby against Arsenal, we look at whether they have taken the Gunners title at the top north London team. For tips and predictions of the upcoming game, check out Big Free Bet's betting tips.
Just a few years ago, if you were told that one North London team was in second place and another was in seventh place some fourteen points behind, you have bet your bottom dollar it would be Tottenham trailing Arsenal. However, recently Spurs seem to have usurped the Gunners as top dogs of North London.
But is Tottenham's apparent hold over Arsenal sustainable or is the route back for the Gunners easier than it seems?
Last season, Spurs found themselves in a two-horse race for the title with eventual 5,000/1 winners Leicester. Chelsea ended Spurs' dreams of becoming Premier League champions with a defeat that seemed to affect the confidence of Mauricio Pochettino's men, eventually finished third, one point behind their red rivals. Whilst that, and Arsenal's rich history possibly suggesting the Gunners will long have the edge over Spurs, what is the foreseeable future saying?
Spurs have some undeniable young talent in their ranks. The likes Dele Alli, Harry Kane, Danny Rose, Son Heung-min, Christian Eriksen, Vincent Janssen, Eric Dier, Kyle Walker, Harry Winks, Toby Alderweireld and Érik Lamela have been in fine form this season and are high in demand.
The PFA Team of the Year was dominated by Spurs players with Walker, Alderweireld, Rose, Alli and Kane all featuring. The team was completely bereft of Arsenal players with Alexis Sanchez and Hector Bellerin the only two of Arsene Wenger's men coming close to that illustrious eleven. Even Mesut Ozil has failed to inspire the Gunners this season. And much like the top stars of White Hart Lane, the Arsenal trio are just a few of the Emirates supposed elite being linked with a move away from the capital.
However, Spurs may just boast advantage in keeping their top stars as there will be Champions League football on offer next season whereas that may not be the case for Arsenal. With football's greatest prize on offer Pochettino and Spurs' main men may just be convinced to remain at the club, though Arsenal are facing an uncertain future.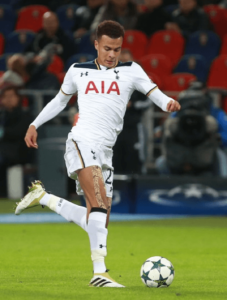 All season there has been a rift between the club and fans with the Arsenal faithful somewhat divided on the future of the league's longest reigning manager. A large share of supporters wish to see the back of Wenger believing he can do no more at the club, whilst many want the club to reward his loyalty with a new contract.
If Wenger is to be rewarded with a new contract, he knows that he must do more in competitions other than the FA Cup. Though if the Frenchman does depart, it will be a new era at the club, a particularly risky move as Spurs are also entering a new era.
Their new stadium is in the process of being constructed and it has recently been announced the club with play all of next season's home games at Wembley. Spurs will worry as to whether the move of home will affect them in the same way it did fellow Londoners, West Ham. Spurs have lost the last few games in the league (joint with Manchester United) with just three defeats to their name and are currently unbeaten at home, winning 15 and drawing two of their matches at White Hart Lane this season. Arsenal, on the other hand, have eight losses behind them.
At the minute, Spurs definitely have the upper hand on the Gunners, their positive future seems somewhat certain whilst there are question marks surrounding that of Arsenal. Though Arsenal have the infrastructure to comeback with vengeance and Sunday's North London derby may be the perfect opportunity to do so. The Gunners sent their rivals packing in the League Cup Third round in September whilst their November league meeting at the Emirates ended 1-1.