Why nobody can stop Novak Djokovic winning fourth Wimbledon crown
Novak Djokovic set to reign at SW19 again, with Andy Murray the likely runner-up at Wimbledon 2016
Twelve Grand Slam titles have now been won by Novak Djokovic, with the world number one really turning the screw in 2016 as he chases down a calendar Slam which would strengthen the argument that the Serbian is the greatest player to have ever lifted a racquet.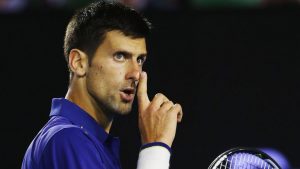 Djokovic has been threatening to take the game to a whole new level and the performance levels at Roland Garros now suggests that the man known as Nole can now boast an awesome game on the surfaces of hard court, grass and clay.
Grass is the chosen surface at Wimbledon where Djokovic will be hunting down a fourth title at SW19, having beaten Roger Federer in last year's final and we're likely to see him triumphing in a fortnight's time.
The bookies are taking no chances with this formidable player, with Paddy Power going 5/6 about the world number one who is likely to face the likes of Milos Raonic and Roger Federer on his way to the final.
Andy Murray will feel pleased to be in the other half, with his second seeding placing him apart from Djokovic and missing Federer is a nice thing considering that the Swiss accounted for him at the semi-final stage last term.
Murray has switched coach again, with Ivan Lendl coming in from the cold after a relatively acrimonious split with Amelie Mauresmo who grew tired of the Brit's temper tantrums and difficult handling.
Ultimately, Murray has had a sterling tennis career which has seen the 29-year-old enjoy two Grand Slam titles although the Scot must have thought he was destined for future silverware after winning Wimbledon in 2013 to go with his US Open title in 2012.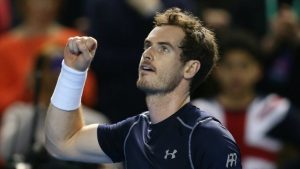 Naturally, there have been a spate of runner-up performances at Grand Slam tournaments which unfairly castigates Murray as a perennial bridesmaid when the plain truth is that Djokovic over five sets has usually been a raging beast that cannot be stopped anymore.
So far this season, it has been two final appearances at the Australian Open and French Open for Murray, although he failed to land a set in Melbourne and winning the opening set in Paris only saw the Serbian come raging back to win three sets and concede just seven games.
Psychologically, can Murray land a blow against Djokovic on grass? Perhaps the pair won't wind up in the final and it should be noted that the latter was taken to five sets by Kevin Anderson in last year's tournament.
The South African won the opening two sets on a tie-break before Djokovic rallied to claim a five-set victory although there was never too much panic emanating from an experienced winner who often plays in a lower gear en route to the business stage of a major tournament.
Last year, Marin Cilic and Richard Gasquet were accounted for in straight sets before a four set win over an inspired Roger Federer in the final. Don't forget that Federer had beaten Murray in straight sets during a semi-final clash so the Swiss was coming into the final with amazing form himself.
But Djokovic is simply THAT good these days and continues to find improvement where you can't believe any exists. Tim Henman claims that Andy Murray's best chance of beating him is at the net, although whether the latter can get forward enough against some rugged baseline hitting is another matter.
"When I watch Andy – or anyone else – play Djokovic, he's just so difficult to break down from the back of the court," said Henman.
"For me, the only way you're going to really have an opportunity is to finish points at the net. Not many people feel comfortable enough to do that.
"It's not about being brave. It's about having the technique to trust your volley. Anyone can come to the net, it's what you do when you get there."
Its clearly been the toughest era in men's tennis for Murray who will have been delighted by the way he was able to act on clay after several attempts to get anywhere near the final.
Perhaps the fact that he took that opening set in the Roland Garros final will lay the blueprint of how Murray can beat his old foe on a preferred grass surface although this is not an arena where the Serbian doesn't thrive even if the Centre Court crowd's appreciation of him is muted.
Bet365 offer 3/1 about Murray claiming a second Wimbledon title and we shouldn't forget that he claimed an Olympic title at SW19 even if that was four years ago.
On the basis of the first two Grand Slams of the calendar year, it might appear sensible to find a Name the Finalists market so that these two men can be backed to meet in the final.
While Federer remains a tour de force, it should be noted that he missed the French Open with injury and his incredible ability to maintain imperious standards can't fail to impress any fan.
However, Roger isn't getting any better and the inability to find that level of improvement along with advancing years means that the legend of SW19 is unlikely to prosper against Djokovic if the pair meet in the semi-final.
Perhaps Federer might rough up Djokovic in a last four match to the extent that Murray can take advantage of a tired opponent in the final, while rain delays could also see the schedule squeezed in a way that might favour the Brit.
However, 5/6 might seem like a gift price on the Sunday afternoon of the final, where Djokovic is likely to arrive on the court having dropped just a handful of games en route to the final.
His serve might not be the best, he's not the tallest player nor the most powerful. But his ability to hit winning shots, to return anything that's thrown at him and that intense will to win marks him as a true legend of the game.